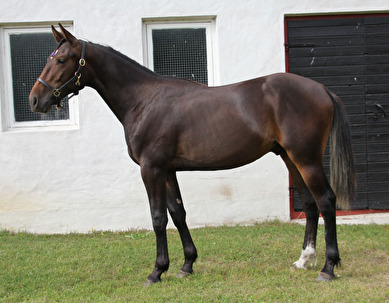 Power
Hingst 2016
e: Googoo Gaagaa u: La Vici ue: Orlando Vici
Mamman La Vici fick en kort karriär på bara 9 starter men som inleddes med en seger för Roger Walmann. Förutsättningarna för en lång karriär i aveln ser vi som mycket goda. La VIci kommer ur ett mycket starkt möderne och mormor är ingen mindre än Elitstoet Lady Lexington. Lady Lexington har inte bara lämnat fina hästar som stochampionatssegraren Bowl's Lady utan har också placeingar i de finaste unghästloppen i USA. Som ett kvitto på mödernets styrka så ligger Lady Lexington och hennes systrar bakom ca 25 hästar som tjänat över en miljon! Bland dessa hästar hittar vi Bowls Lady, Running Sea, Rite On Track, Amaru Boko, Pau, Face the Evil och Dreamalittledream.

La Vici har börjat lovande i aveln. Hennes första avkomma On the Line har börjat sin karriär på ett bra sätt med ett deltagande i Breeders Crown finalen för treåringar på meritlistan.

Extra spännande med La VIci är att hon kommer ur den franske stjärnan Orlando Vicis första svenskfödda kull.